Thanks! Let's Get You Your E-book!
---
I dedicate this book to you…
The reader, the inspirer, the do-er.
The passionate professional who dedicates their life and work to inspiring people to live their innate potential each and every day.
The go-getter who works hard to be their best, personally and professionally.
The visionary who chooses to see things not as they are, but as they could be.
The leader who has the courage to speak truth to power, sharing uncommon solutions to common problems.
The person who's paying attention, asking better questions, seeking better solutions, working to make our world a better place.
Thank you for being here!
– Dr. Jason Deitch
Below, you'll see where you can download your e-book. It's in PDF format. Be sure to "right click" that link and then select "save as" if you want to save it to your hard drive.
Enjoy! And if you need help with anything at all, you can always reach my team and I at support@amplifeied.com.
Also, we'll be emailing you a link to this page right away. In fact, it's probably in your inbox now.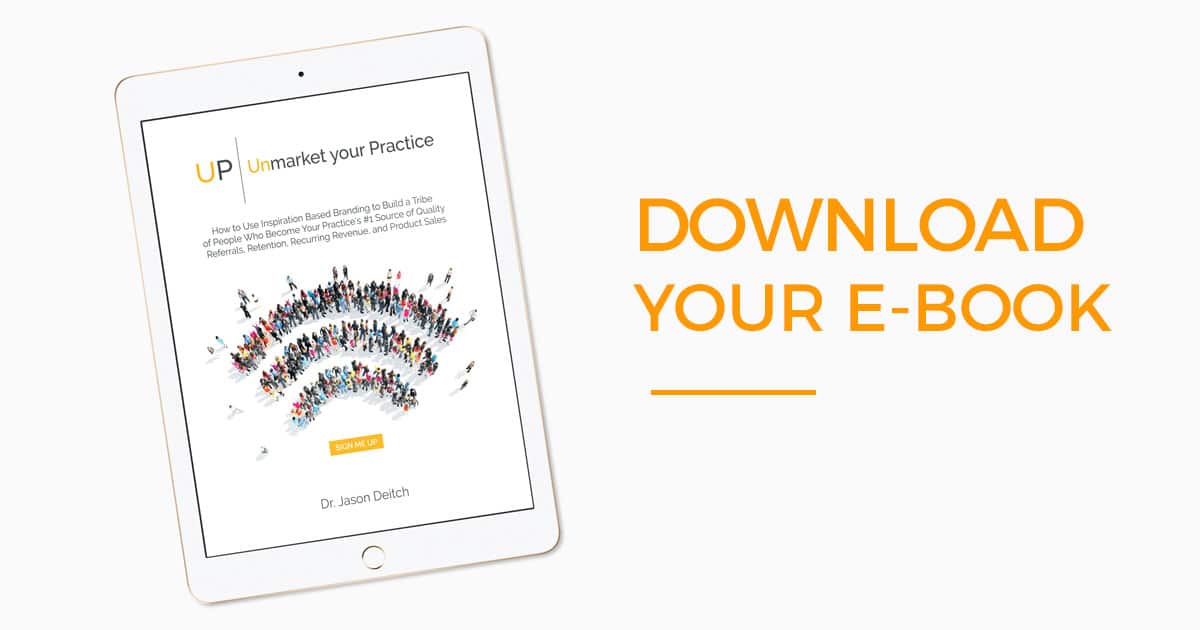 Unmarket your Practice E-book
By Dr. Jason Deitch
Learn how to use Inspiration Based Branding ™ to build a tribe of people who become your practice's #1 source of referrals, increased conversions, retention and product sales.
Bonus: Tribe Leadership Training
With Dr. Jason Deitch
This is a free video series for health professionals and their teams who are looking to build a connection, a relationship, and make a significant impact in their community using social media. You'll learn how you can…
Build your audience

to teach, invite and consult more new patients, increase product sales and increase retention in your physical practice, to increase your monthly collections.

Reduce your monthly stress

when you solidify the consistency of your minimum viable monthly income by introducing a monthly membership option for your tribe.

Secure and protect your financial future

by building online product sales without the hassle.